By Katima Saleh
Dr. Nicholas Ashill, Professor of Marketing at American University of Sharjah (AUS), is planning to undertake a three-month run across America starting in May 2017 to inspire people to dream big and help families suffering from pulmonary fibrosis.
Dr. Ashill, who is the Chalhoub Chair of Luxury Brand Management at the School of Business Administration of American University of Sharjah, will run the historic Route 66 starting in Los Angeles, California, on Sunday, May 14, 2017 and finish his run in New York about 110 days later.
A seasoned marathon runner, the Wales-born New Zealander said, "I wanted to do something significantly longer."
According to Ashill, he had long dreamed of running a serious ultramarathon, such as the 5,400 km Route 66 venture; his mother's 2015 death from pulmonary fibrosis gave him a reason to commit to this one, along with a charitable cause to support.
A worthy cause
Pulmonary fibrosis, a fatal lung disease, occurs when lung tissue is damaged or scarred, which causes permanent breathing difficulties. According to the Mayo Clinic Foundation for Medical Education and Research, with most patients, doctors can still not tell with certainty what causes the disease.
Dr. Ashill plans to raise money for scientific research, and to provide oxygen bottles and support to individuals directly affected by the disease and their families. It will also help fund care for those suffering from pulmonary fibrosis who can't move anymore.
"Patients in later stages of their lives, particular the last three to six months, they have to constantly live off a portable or even a permanent oxygen machine," Dr. Ashill said.
"A key objective of my run across America is to raise money to support families who are affected by the disease. So many people need practical, emotional and financial support and I desperately want to help with this. My family received so much love and emotional support during the last two years of my mum's life and I want to give back. The run is one way I believe I can do this," said Dr. Ashill.
Route 66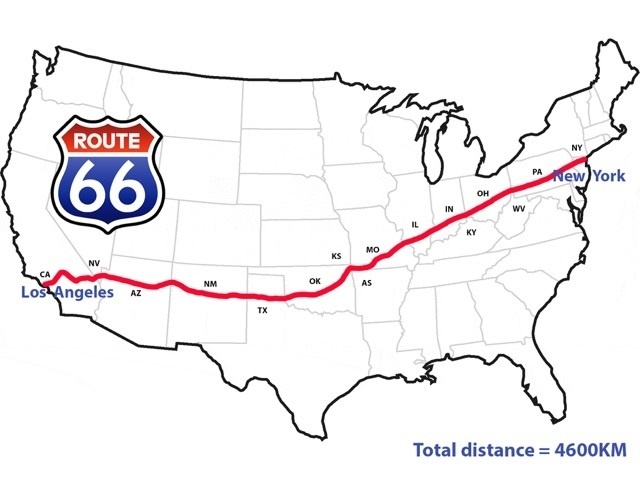 The first 3,000 km of his run will take place on the famous Route 66 from Los Angeles to St. Louis, Missouri. One of the original highways within the US Highway System, Route 66 is often called the Main Street of America or the Mother Road. After St. Louis, he will leave Route 66 and continue on other parallel roads to the main interstate highways all the way to New York.
"Very few people embark on this type of run, especially in the summer," Dr. Ashill said adding that he has adapted to the summer heat through training in the UAE and the region.  "My body likes running in high temperatures."
The run itself offers a unique distinction to those who finish it, as there are very few people who have completed it. "More people have climbed Mount Everest than those who have run across the USA," said Dr. Ashill. "On average 20-30 people attempt such a race annually, mostly in the winter, rather than in the May–August timeframe I am planning to run. And most of those doing the race take a route further north because it's cooler."
He acknowledged that the weather is likely to be unpredictable, and will add a level of complexity to his run. "You never know what you are going to get in the United States," he said.
Schedule 
Dr. Ashill said he expects to run 50 km per day, seven days a week. He will start at 6:00 a.m. and finish running between 1:00 and 2:00 p.m. each day, giving him enough rest "to give my body time to recover." A quarter to a third of the way into the race, he plans to take at least one day off per week, and he may even opt to add another day off depending on his physical wellness. But he said he will increase the daily running distances to make up for any resting days, hoping to keep to a 50 km daily average.
His race support team will include his eldest daughter, 23, and his father-in-law, who will be onboard a Recreational Vehicle (RV) that will be with him all along the race. He will also spend the nights and resting days in the RV. Other support team members will rotate and change throughout the race.  There will also be someone who will be accompanying him on the run to document his journey.
"A typical day would look like this: I get up at 6:00 a.m. I will stuff my face with bananas and protein shakes before starting. I will do 15 km then the RV will catch up to me for breakfast, and then do another 15 km. After a small break, the RV will go on, and my final stage will be a 20 km run."
Obstacles 
According to Dr. Ashill, the last logistical issues are the biggest challenge in this final stage of organizing the race. "Finding an RV in America is the biggest obstacle right now because the cost of leasing or renting an RV, which is needed to support my support crew and myself, are just too high," he said.
If any complications were to occur, depending on the nature of the conflict or possible injury, his backup plan will be to move the route further east, he said.
Background 
Dr. Ashill has a long history of running challenges races. "I've been involved with ultramarathons for 15–20 years," he said, "and standard marathons and 10k races since my university days—that goes back to the 80s," he added.
In the past 15 years Dr. Ashill has devoted his attention to ultra-endurance races and has run dozens of marathons in different parts of the world including the UAE, UK, US, Australia and New Zealand.  In 2010, he competed in the Four Peaks Challenge in the UK with his colleagues Dr. Paul Williams, also Professor of Marketing at AUS, and Lee Mitchell, who was then Director of the AUS Wellness Program. The challenge involved running up and down the four highest mountains in England, Scotland, Wales and Ireland. The team won the event in the Veterans category. In 2012, the same three individuals competed in one of the world's most famous endurance running races, the Comrades in South Africa (90km).
In May 2013 he participated, with three of his AUS colleagues, in the London to Brighton 100 km ultra-marathon to aid families affected by congenital heart defects, and in April 2014 Dr. Ashill ran the toughest race on earth, the Marathon des Sables in the Sahara Desert to help reduce malnutrition in rural Kenya.
Diet, exercise and preparation
Dr. Ashill said he began training for this ultramarathon in the summer in New Zealand and Cyprus. He spent September running daily "half marathons," and progressed in October into "hill work" in, among other places, Fujairah and Oman.
Besides bananas and protein shakes, Dr. Ashill said he consumes large amounts of nuts and enjoys large meals. "I'm burning thousands and thousands of calories," he said, noting that even after a big lunch, by "three in the afternoon I am starving again."
According to Ashill, the training routine benefits him in more than just physical ways.
"The way my head and body works, you cannot divorce one from the other," he said. "My physical well-being has a profound impact on the ways I interact with students and teachers in the classroom, and has a profound impact on my ability to undertake high-quality academic research in marketing."
Expectations 
As for what he expects to happen next spring and summer in the United States, Dr. Ashill said he is mainly concentrating on raising awareness about those suffering from pulmonary fibrosis. He is not, he says, thinking about breaking any records.
He noted that the world marathon-running record was set in 1980: 3,100 miles completed in just over 46 days.
"I am 52 years old now," he said. "I know that my body is not as strong as some in their 20s or 30s."
His goal, therefore, is simple regarding the upcoming run: "To me it's all about finishing."
A number of other members of the American University of Sharjah family have taken part in various endurance challenges. This summer the university's Supply Chain Director, Jayant Menon Manavazhi, climbed Mount Kilimanjaro in Tanzania, the highest mountain in Africa. And in early 2014, Dr. Meis Al-Kaisi, Assistant Professor of Arabic and Translation at American University of Sharjah, climbed to the peak of Mount Kilimanjaro to raise money for orphaned children in Uganda.
Katima Saleh is a student at American University of Sharjah.
Visit www.aus.edu for more information about American University of Sharjah
Topics: American University of Sharjah, American University, Los Angeles, New York, ultra-marathon, American,Marathon, Route 66, St. Louis, Pulmonary Fibrosis, Lung Diesease, Pulmonary